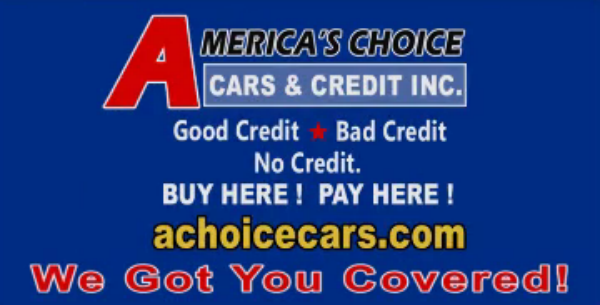 Our Company
America's Choice Cars & Credit Inc. and America's Finance Inc. are both family owned companies. We have been in business for 21 years. We currently have 2 locations and serve 4 territories.
Approvals and Payments
Since we are a bank as well as a car sales operation, everything is done in right here. Most approvals are completed in the same day. Payments are made affordable and can be made at our in house finance company. Most of our payments are between $155 and $185 every two weeks or we would match your pay cycle. We accept credit/debit card payments or we can take the payment directly from your checking or savings account. Your application, whether in-person or online, will be processed in minutes and the good news is "you're approved" as we have a 100% approval policy!!
Down Payments
Down payments are flexible. For example, if you have a lot of time in the area and a stable employment history you may qualify for a low down payment. Since everything is done 'in-house' you will deal with the same people from start to finish. All of our vehicles are state inspected and you may take it to your mechanic before you buy.
Free Fluid Checks!
On the first weekend of every month we have free fluid checks and 'top offs' at each America's Choice location. We have free refreshments to go along with this service. Just another benefit when you become an America's Choice 'member'!
State Inspection
Free State inspection for the life of your loan (Appointment necessary). We will State inspect your vehicle free of charge and do necessary repairs to pass inspection with no money down costs are just added to the back of your loan. (as long as your account is in good standing and current) Another benefit of being an America's Choice member!
General Maintenance
We will perform general maintenance to your vehicle (appointment necessary) such as tires, oil change, repairs etc. We can do this for 25% of the cost of repairs paid up front and the balance added to your account. Account must be in good standing and current. Another benefit of being an America's Choice member!
Warranty Coverage
All internal lubricated moving parts in the engine. All internal lubricated moving parts in the transmission. The most common failure on a vehicle today is a water pump, starter, alternator and fuel pump and yes we cover those also. We do this for 24 months or 24,000 miles. Like everything we do, our warranties are simple, no tricks, just good coverage!